Hiring an Attorney Can Make a Difference After a Semi Truck Accident in Maumee, Ohio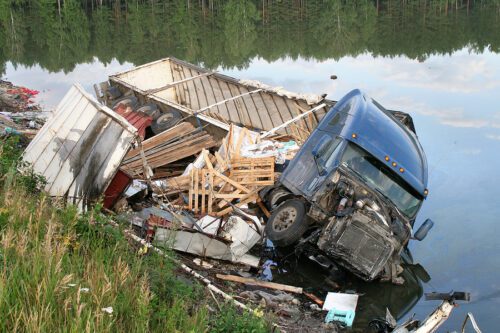 Maumee, Ohio may not be a big city itself, but as a populated area on the route to Toledo, it has a lot of semi-truck traffic and an increased risk of being involved in a truck accident. Accidents involving semi-trucks are far more serious than most accidents involving passenger cars and can create a lasting impact for their victims. If you have been seriously injured in a semi-truck accident in the Maumee, Ohio area, you will be facing a fleet of lawyers from a commercial insurance company trying to pressure you while you are scared and recovering. You don't need to be a victim again. You need a dedicated Maumee lawyer to negotiate on your behalf after a semi-truck accident.
The Roadways of Maumee: Where Accidents Can Strike
Several major roadways pass through Maumee, and major roadways mean semi-truck traffic. Many Maumee area roadways are common routes for commercial trucks traveling through Ohio. The Ohio Turnpike is a heavily traveled interstate where the risk of accidents with semi-trucks is higher than that of other roadways. Anthony Wayne Trail connects Maumee to Toledo and often experiences heavy truck traffic. During times of heavy traffic or severe weather, passenger cars are at a higher risk of being involved in an accident. Commercial areas in Maumee with businesses, warehouses, and industrial facilities also increase truck traffic, which can put Maumee residents at a higher risk of being involved in an accident with a semi-truck. Some of the hotspots for truck accidents include:
Interstate 80/90
US Route 20
Anthony Wayne Trail (State Route 25)
Industrial Areas
Downtown Maumee
Construction Zones
While accidents can happen anywhere, these hotspots can put passenger cars at an increased risk of being involved in an accident with a semi-truck, which can be far more serious than a simple fender bender with another passenger car.
The Devastating Impact of Semi-Truck Accidents
Whenever a semi-truck is involved in an accident with a passenger car, the impact to the car and the occupants will be serious and expensive. Broken bones, head injuries, internal injuries, and even more serious injuries are all a real risk after a truck accident. Most of these serious injuries will require substantial and long-term medical care and rehabilitation. During this time, you will be unable to work. As mounting medical bills meet missed wages, you may find yourself in a very scary place financially, all while dealing with physical and emotional trauma. Hospital bills, medication, physical therapy, and property damage add up very quickly. In addition, the long-lasting effect of the physical injuries and emotional trauma can result in future medical costs, loss of earning potential, pain and suffering, and even a shortened lifespan. The impact of a semi-truck accident is severe, and the compensation recovered from the settlement should reflect that.
Why You Need a Semi-Truck Accident Lawyer
Truck accidents are more complicated than car accidents. Not only is the damage typically more severe, but the logistics in the aftermath are far more complex. When you are the victim in a semi-truck accident, you are dealing with a commercial insurance company employing a fleet of lawyers dedicated to minimizing liability. These insurance companies have significant resources at their disposal and will spring into action while you are still at the scene or receiving medical attention. They will immediately begin collecting evidence that is favorable to the truck driver and ignore evidence in the favor of the victim.
As most victims are facing serious injuries and focusing on medical treatment and recovery without an attorney in place, this puts most victims on the back foot right from the start. Because you are fighting not only one, but a team of experienced attorneys working for the insurance company, you can't wait to see how things go before contacting an attorney of your own. While your first priority is always to get immediate medical attention, you need to reach out to an experienced attorney to begin negotiating on your behalf as soon as you are able. An attorney experienced in semi-truck accidents will understand trucking regulations, how liability is determined in a truck accident, and will have the expert resources to work on your behalf.
Arthur Law Firm Has a Strong Commitment to Maumee, Ohio
As a local law firm dedicated to protecting and fighting for the rights of our friends and neighbors, we will make sure that you get the legal representation you deserve after an accident in Maumee with a semi-truck. Arthur Law Firm has deep roots in the Maumee area, and we care about protecting those who live and work alongside us. Having a local attorney who understands the roads, the traffic, the medical facilities, and the insurance companies is crucial to getting the settlement you need. We are proud of our reputation in Maumee, and we will work hard to maintain that reputation by fighting for you.
Truck accidents are serious and you can't take on a commercial insurance company on your own. While the insurance company may say they care about you as the victim and want to help you, they are looking out for their own interests first, and you need someone to look out for you. Don't let yourself be bullied into admitting partial fault or settling for less than you are entitled to. As soon as you can after a truck accident, schedule a consultation with a Maumee attorney who will work to get you through the process and on the road to recovery.