Fair & Square Fee Guarantee
ARTHUR LAW FIRM FAIR & SQUARE FEE GUARANTEE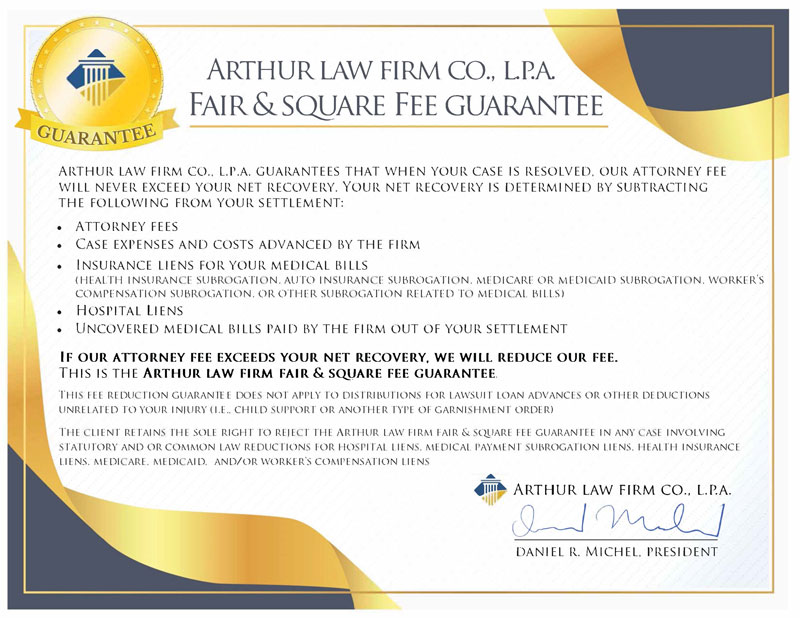 View/Download Certificate
We understand that a severe accident can change your life in an instant.
Pain, stress, and frustration can influence your ability to sort through the facts clearly.
It's important to have an attorney you can trust by your side. As you face the possibility of a long recovery it's important to know your legal options.
Arthur Law Firm guarantees that when your case is resolved, our attorney fee will never exceed your net recovery. Your net recovery is determined by subtracting the following from your settlement:
Attorney fees
Case expenses and costs advanced by the firm
Insurance liens for your medical bills
(health insurance subrogation, auto insurance subrogation, Medicare or Medicaid subrogation, Workers Compensation subrogation, or other subrogation related to medical bills)
Hospital liens
Uncovered medical bills paid by the firm out of your settlement
Personal injuries can result in significant expenses due to medical care, assistance requirements, and changes to the way you live your life.
With our Fair & Square Fee Guarantee, you can trust Arthur Law Firm to protect your rights and recover all damages you are entitled under the law without the fear of paying more in legal fees than you recover from your settlement.
If our Attorney fee exceeds your net recovery, we will reduce our fee.
Complicated legal processes and confusing insurance settlement offers are common in personal injury cases. Preparing a claim like this is time-consuming. Success is contingent on fair and honest legal representation. We can help you sort through the difficult circumstances you're facing as an experienced advocate with your best interests in mind.
Clients retain the sole right to reject the Arthur Law Firm Fair & Square Fee Guarantee in any case involving statutory and/or other common law reduction for hospital liens, medical payment subrogation liens, health insurance liens, Medicare, Medicaid, and/or Worker's Compensation Liens.
This fee reduction guarantee does not apply to distributions for lawsuit loan advances or other deductions unrelated to your injury. (i.e. child support or another type of garnishment order)
Get Your Free Personal Injury Consultation Now
"*" indicates required fields