Impact Of Semi Truck Accidents In Perrysburg, Ohio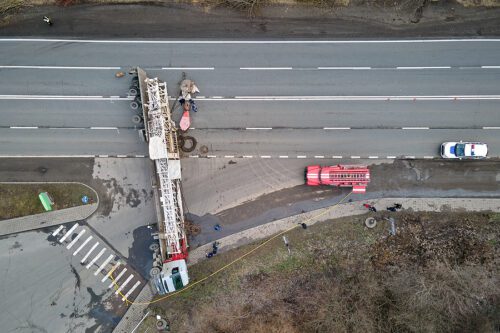 If you've ever driven through Perrysburg, Ohio, you're sure to have noticed the abundance of semi-trucks and other large commercial vehicles traveling the area's roads daily. Unfortunately, the volume of semi-trucks traveling through this region increases the risk of an accident or collision on any given day. Traffic accidents involving semi-trucks can be incredibly dangerous due to the sheer size and weight of the vehicles involved.
Suppose you or someone you know has been injured in an accident with a semi-truck. In that case, it is important to remember that you may be entitled to compensation for any medical bills, property damage, pain and suffering, or lost wages associated with the incident. It is essential to consult with an experienced truck accident attorney in Perrysburg who can advise on the best course of action and maximize any potential benefits you may be eligible for.
By taking the time to understand your rights, seek legal help, and act swiftly in the event of an accident involving a semi-truck, you can minimize your risk of further damage or financial loss.
Our Dedication to Perrysburg
At the Arthur Law Firm, we are dedicated to providing the residents of Perrysburg and surrounding areas with top-class legal representation for semi-truck accident cases. With years of experience in this field, our attorneys deeply understand the road dynamics in this area and how to navigate these complicated cases best. We understand that dealing with the aftermath of a semi-truck accident can be incredibly stressful, and we are committed to providing our clients the best legal guidance and support.
Having a dedicated truck accident lawyer on your side can be the difference between obtaining a positive outcome in your case or not. Our lawyers are here to protect your rights, negotiate with insurance companies, and ensure that any damages you may have suffered are fully compensated. If you have been involved in a semi-truck accident, do not hesitate to contact us for sound legal advice.
Our team is here to provide you with the resources and support needed to navigate this difficult situation and obtain justice for your case.
Navigating Perrysburg's Roads: Unraveling the Risks
Several roadways in and around Perrysburg, Ohio, are more susceptible to semi-truck accidents due to their high traffic volumes, infrastructure, and mix of local and commercial vehicles. Keeping that in mind, the following are some of the roads in this area that tend to be more prone to semi-truck accidents:
I-75 Interchanges: Interstate 75 is one of the busiest highways in the Perrysburg area, with significant commercial truck traffic. The ramps, merging points, and interchanges along I-75 can be particularly dangerous due to merging conflicts, high speeds, and unexpected obstacles.
US-20: US-20 is a significant east-west route that passes through Perrysburg and sees a mix of local and long-distance traffic. Congestion, intersections, and varying road conditions can all contribute to an increased risk of truck accidents on this busy stretch of highway.
SR-25: State Route 25 passes through Perrysburg and connects various local communities. Due to the intersections, varying speed limits, and potential for local deliveries on this route, there is a greater risk of semi-truck accidents.
Fremont Pike: Also referred to as US-20, this roadway passes through Perrysburg and connects the area to nearby communities. A mix of local businesses and high-speed traffic on Fremont Pike can contribute to an increased risk of semi-truck accidents. Additionally, due to the number of intersections and entrances/exits along this road, semi-truck collisions are more likely to occur here.
Erie Street: As a main thoroughfare in the heart of Perrysburg, Erie Street often experiences heavy traffic from semi-trucks and other large commercial vehicles. Intersections, pedestrians, and businesses increase the chances of an accident along this busy stretch of road.
Local Industrial Areas: Industrial areas in Perrysburg consist of distribution centers, warehouses, and manufacturing plants. These industrial zones can be hazardous for semi-trucks due to their large size and limited maneuvering space. Semi-trucks are often forced to navigate tight turns and complex intersections, increasing the chances of an accident.
When Semi-Truck Accidents Happen in Perrysburg, Ohio
Legal challenges associated with semi-truck accident cases can be incredibly complex due to the intricate nature of trucking regulations, insurance policies, and other factors. To successfully navigate these legal issues, working with an experienced lawyer who has a deep understanding of federal and state trucking laws is essential.
At Arthur Law Firm, our semi-truck accident lawyers have decades of experience handling these cases and are well-versed in the applicable statutes and regulations. We provide personalized legal advice to victims and their families on compensation for personal injuries, property damage, medical bills, lost income, and more. With our expertise, you can be confident that your case is in good hands.
The Impact of Semi-Truck Collisions: Unveiling the Consequences
Semi-truck accidents can have devastating consequences for victims and their families in Perrysburg, Ohio. In addition to the physical injuries that may arise from a crash involving a semi-truck, the psychological trauma associated with such an incident can be long-lasting and profoundly impactful. Victims may find themselves dealing with medical bills, lost wages, property damage repair costs, and more.
Unfortunately, semi-truck accident cases involve a complex array of legal issues that can be difficult to manage without the assistance of an experienced attorney. It is essential to work with a lawyer who is knowledgeable in federal and state trucking laws, liability determination, and insurance policies to navigate the challenges associated with these cases successfully.
Working with an attorney who has expertise in semi-truck accident cases is essential in building a strong case. Arthur Law Firm can provide victims and their families with the resources they need to ensure that they receive the compensation they deserve following an incident involving a semi-truck.
Contact Us: Your Legal Support in Perrysburg, Ohio
If you or someone you know has been injured in a semi-truck accident in or around Perrysburg, Ohio, the Arthur Law Firm is here to provide expert legal guidance. We are dedicated to helping victims and their families seek justice and compensation for losses related to an incident involving a semi-truck.
Our experienced attorneys are ready to answer any questions you may have and discuss your legal options. Contact us at the Arthur Law Firm today to schedule a consultation and find out how we can help you successfully navigate your case.