Dan Michel Named President Of Ohio Association For Justice
March 29, 2020 | 5:00 pm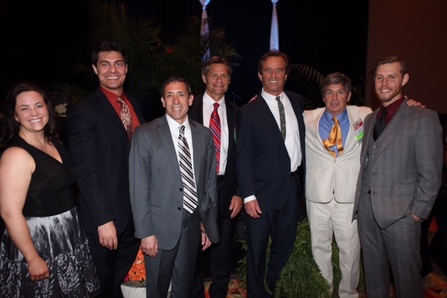 The law firm of Arthur, O'Neil, Mertz, Michel & Brown posed with Robert Kennedy, as they celebrated Dan Michel's new leadership role as President of the Ohio Association for Justice.
At its annual convention, May 7-9 in Columbus, Ohio, the membership of the Ohio Association for Justice will elect by acclimation Daniel R. Michel to be President-Elect of the organization for the coming year. Michel is a member of the organization's Executive Committee, and the previous year as President-Elect and has served as Vice-President, Treasurer and Secretary.
Michel is a partner at the Arthur, O'Neil, Mertz, Michel & Brown law firm based in Defiance, Ohio. His areas of practice include personal injury, medical malpractice, and general business. Michel graduated from Madonna University with a Bachelor of Science degree in international business and economics and earned his Juris Doctor on at the University of Toledo College of Law where he graduated Cum Laude.
Michel has had a number of accomplishments throughout his career as a trial attorney. He is a well-respected member of several law associations throughout Ohio and the country including The Ohio Association for Justice, Ohio State Bar Association, the American Association for Justice and the Northwest Ohio Family Law Association. Michel is a founding member of the Northwest Ohio Family Law Association and is also a member of the editors' board for Ohio Association for Justice. Michel has several published works within OAJ's biannual magazine, Ohio Trial, and also in the University of Toledo Law Review. Michel resides in Defiance, Ohio along with his wife Beth and two sons, David and Tom.
The Ohio Association for Justice is a statewide organization of plaintiff attorneys whose mission is to preserve our Constitutional rights and protect access to the civil justice system for all Ohioans through advocacy in the Courthouse, Statehouse, and Bureau of Workers' Compensation. Member lawyers practice in such specialty areas as workers' compensation, personal injury, medical negligence, products liability, consumer law, insurance law, employment and civil rights law, environmental law, and general negligence.